General Introduce
Automatic conveyor sand blasting machine are mainly used for treating long and/or flat components. The components continuously pass through the "pre"chamber, the blasting chamber, and the cleaning chamber on a special roller conveyor.Highly efficient turbines fixed on the machine housing make the Steel Plate Shot Blasting Machine possible to treat the components on all sides.Automatic conveyor sand blasting machine are used to remove scale, rust and paint from long and/or flat components.
Feature
Steel tube shot blasting machine can be used for cleaning casting,forging and welding pieces,remove surface inclusions and oxide skin.
Steel Tube Shot Blast Machine Feature:
1.Suitable for ship,car,automobile,bridge,etc. industry
2.Cleaning fast

3.PLC control system
4.3D disign and plasma cutting
5.Chamber liner by olling Mn13 steel,at least 2~5 years
Main technical parameters:
Parameter

Cleaning Size (mm)

Cleaning Speed (m/min)

Purposes

QGW100

50-300

2-10

Outer Wall of Shot-blasting Machine

QGW720

159-720

2-6

QGW1200

219-1016

1-6

QGW1500

325-1600

1-6

QGW2800

1016-2800

1-2

QGN100

50-300

1-4

Inner Wall of Shot-blasting Machine

QGN700

325-720

1-2

QGN1000

720-1016

1-4

QGN1500

1016-1500

1-4
Equipment main structure and characteristics
QG Series Steel tube shot blasting machineis consisted of shot blasting chamber, blasting wheel assembly, shot material cycle purify system, roller transmission system, dust removing system, electric control system and so on.
1.Shot blasting chamber
Shot blasting chamber is welded by Q235 steel plate and steel frame. Meanwhile, shot blasting chamber equip testing door, which is the seal space to clean the workpiece. Inside of shot blasting chamber is protected by cast iron protective plate (material ZCr5,thickness 10mm), meanwhile, it is impacted by protective cap.
2.Blasting wheel assembly
Two sides of top shot blasting machine equip two sets blasting wheel assembly. The location of blasting wheel is calculated by computer three-dimensional dynamic simulation. The location and angel are calculated by computer to assure the workpieces completely cleaning.
3.Shot material cycle purify system
It is consisted of screw conveyor, bucket elevator, shot and grit separator, supplying shot sluice valve ,slipping shot pipe and so on.
4.Roller transmission system
Transmission roller consists of charging roller and discharging roller.
5.Dust Collector
It consists of dust collector body, blower, settling tank and pipeline.This equipment takes two grade dust removal, the dust goes through settling tank first, the large grain will fall down through inertia, then large particles will come out by filter cylinder type.
Quality and After-sale Assurance
1. Supplier promise the name, model, specification and quantity comply with technical protocol, assuring the machine is new equipment with qualified material manufactured through perfect technology. There are no defects in design, material and technologies, which is suitable for propose of demander, and meets the standard of national industry. The quality is stable and reliable.
2. Equipment warranty period is 12 months after the final acceptance( except force majeure, inappropriate operation and the quick-wear parts wears).
Steel tube shot blasting machine/Pipe cleaning machine
Machine Pictures: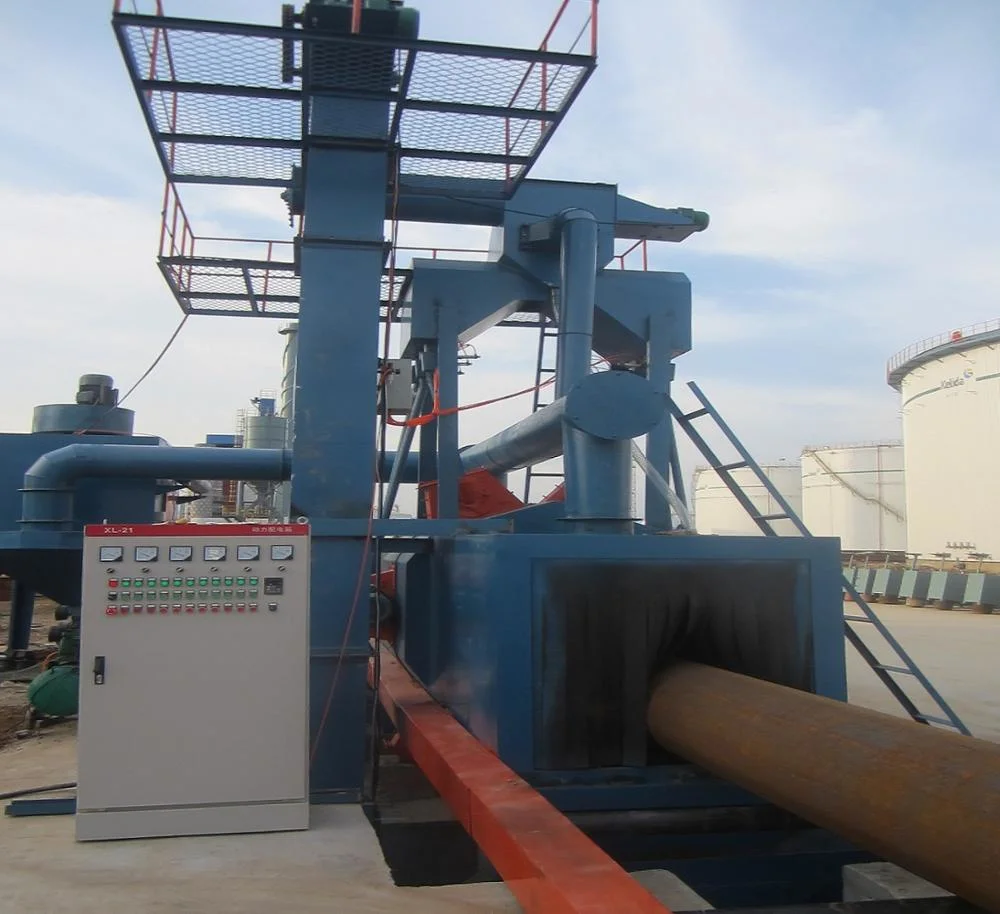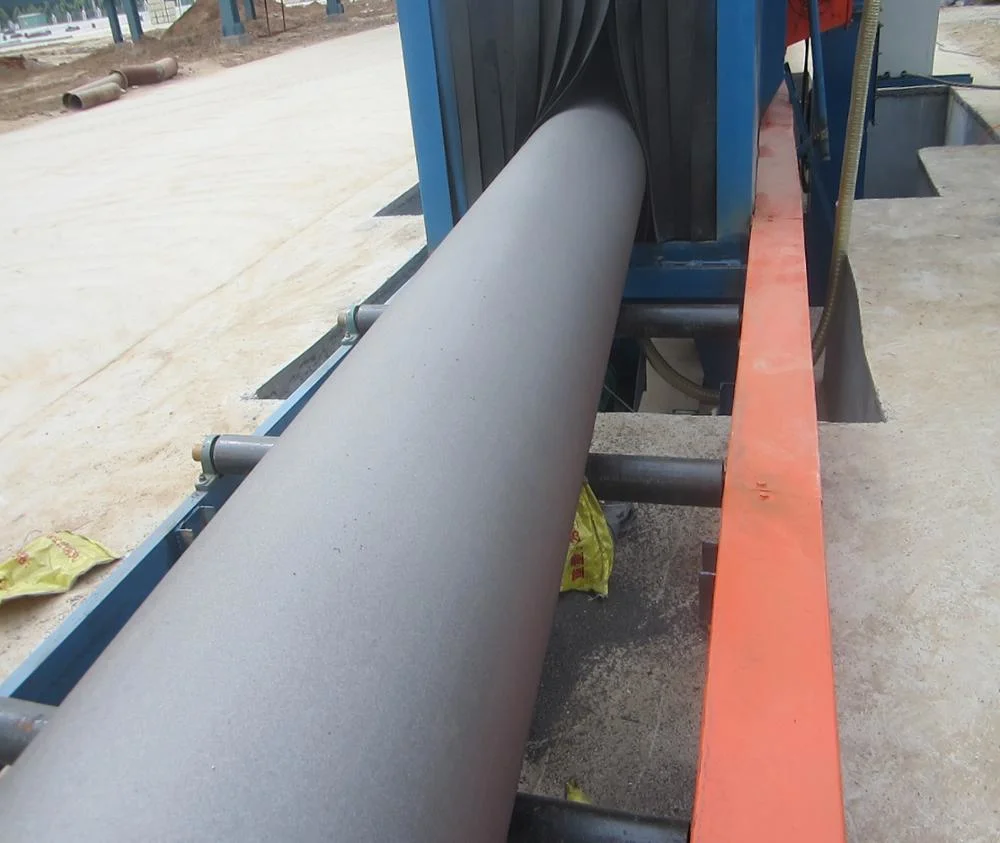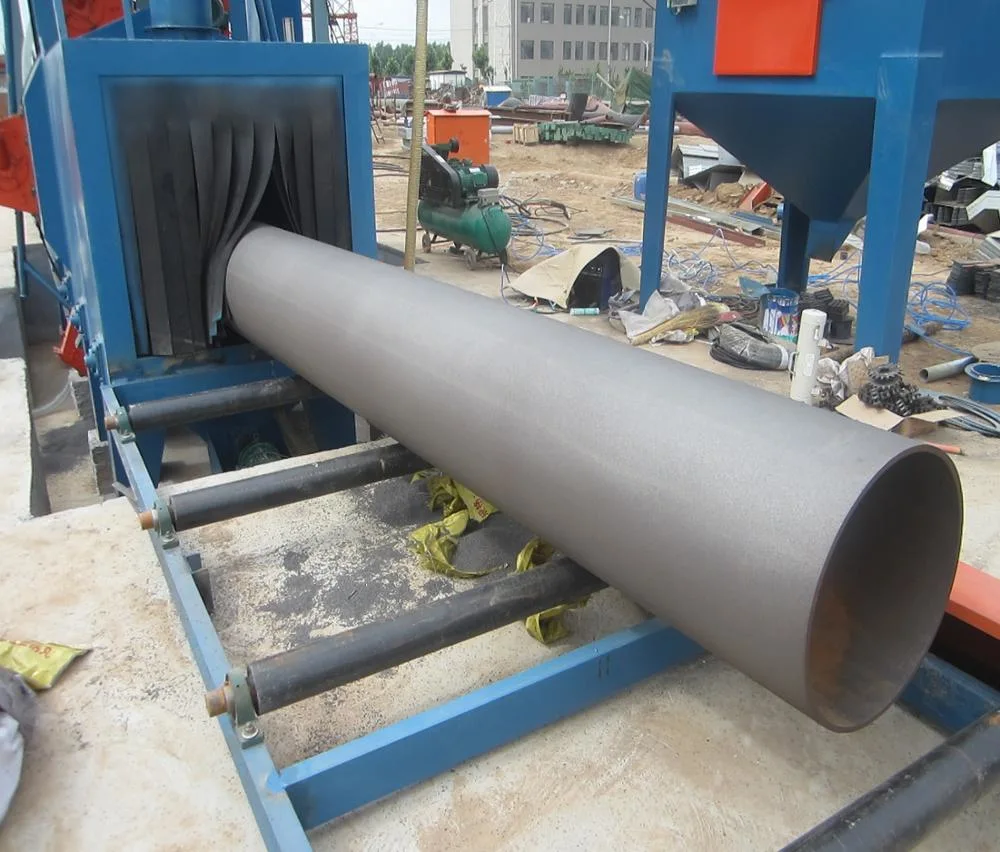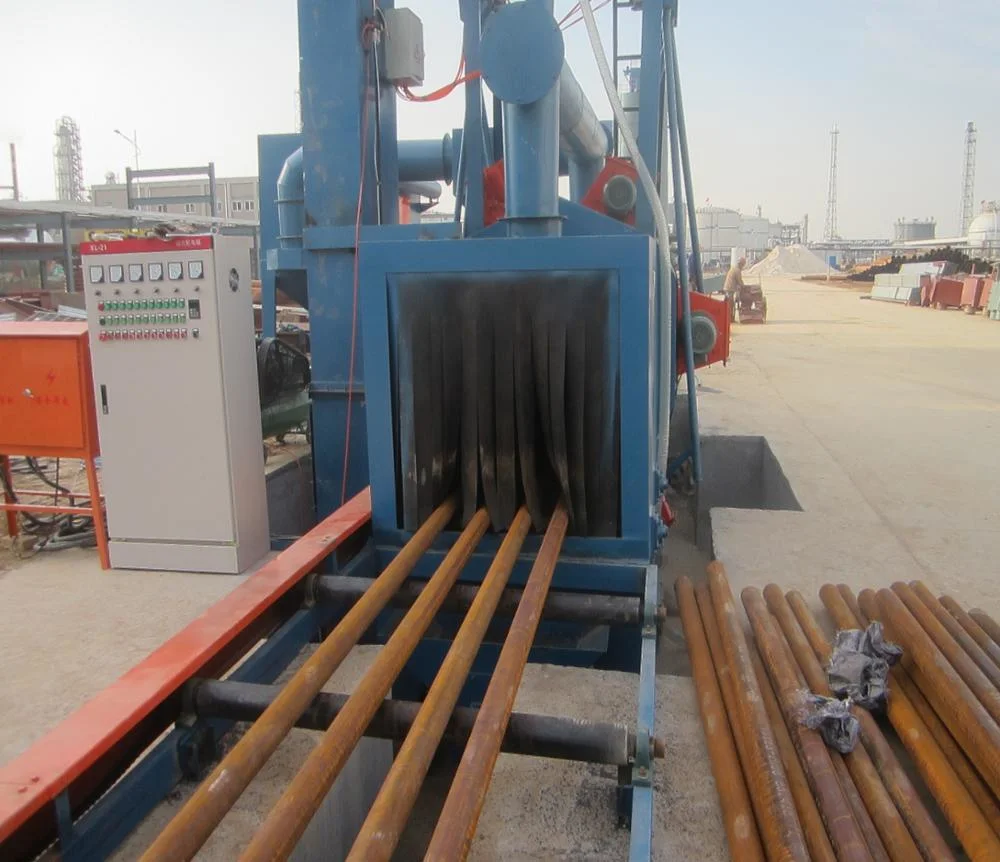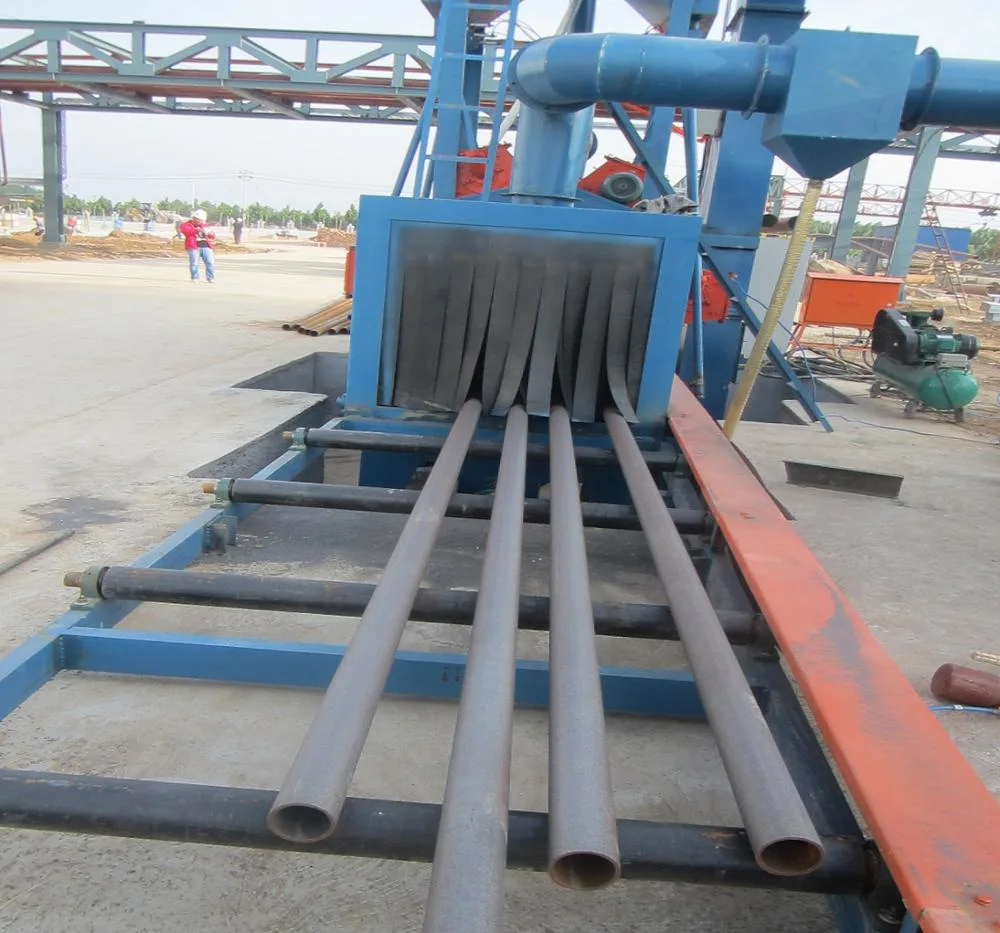 Overseas Exhibition: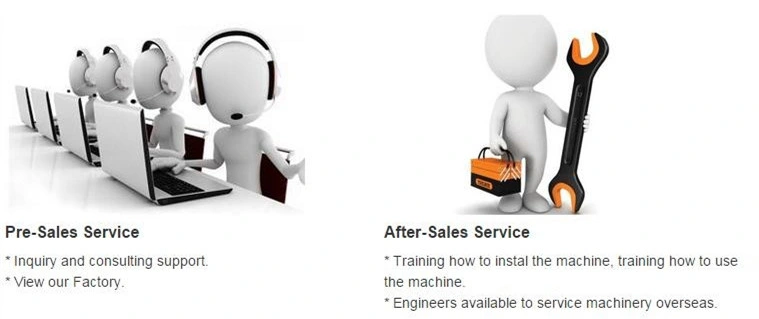 FAQ
:
Q1: I knew nothing about this machine, how am i know this machine will meet my working needs?
Please tell us your workpiece size or show specific drawings, we will give you professional solutions.
Q2: When I got this machine, but I don't know how to use it. What should I do?
We provide overseas service and English manual, after installation, if any problems happen, we offer the remote video guidance and charging overseas service.
Q3: If some problems happen to this machine during warranty period, what should I do?
Contact us directly, we will supply free parts during machine warranty period. While we also supply free life long after-sales service.
Q4: If i want visit your factory, how can i get?
Company address:39#, Liandong U business park, Wuxi city, Jiangsu, China
Factory address:Xinhong Industrial Park, Dongtai Yancheng City, Jiangsu, China
1), Visa: if u need get a government visa, pls pay 20%(at least) prepayment for new customer. Wuxi government regulations. Thanks for support.
2), By train: Wuxi station. By air: Wuxi Shuofang Airport. We will drive u to our factory. 180km between Wuxi and Yancheng city.
Q5: Why your sales office at Wuxi, but your factory located at Yancheng?
10 years ago. In response to the Yancheng government investment invitation, our leader moved the factory from Wuxi to Yancheng, purchased 15,000 square meters of land and built factories. In order to reduce production costs and sustainable development.
Tips: At present, the Jiangsu government is building the provincial high-speed railway. It is expected that Yancheng will open the subway in 2022.
Contact:
Website: http://yaoqiangwelding.en.made-in-china.com | http://yaoqiangwelding.en.made-in-china.com | http://yaoqiangwelding.en.made-in-china.com
Dongtai Yaoqiang Machinery Manufacture Co.,Ltd | Factory Addr.: Tangyang Town, Dongtai Yancheng city, Jiangsu, China
Jiangsu Silver Coast International Trade Development Co.,Ltd | Sales Office: #39 Liandong U Valley,Wuxi city,Jiangsu,China