Steel Profiles Automatic Roller Conveyor Pass Through Type Shot Blasting Machine Made in China
1. Product Description
It is mainly used for surface treatment(namely preheating,rust removal,paint spraying and drying )of steel plate and various structural sections,as well as for cleaning and srenghening of metal structure parts.
We can design and produce for our customer according to the cleaning requirements of workpiece.
1. The series Q69 shot blasting machine for steel profilesThe series of Q69 steel sheet shot blasting pre-treament line are mainly consist of warm-up, shot blasting and spray painting and drying process.
2. It applies to shipping, car, motorcycle, bridge, machine ect which is in the line of steel board, section and structure casting to wipe of surface rusting and paiting art.
3. The company has first-class technology research-development center and well-developed quality management system, and we have passed ISO9001 international quality system certification. Our company is the National Blasting & Peening Standardization Technology Committee Unit.
4. And the company takes part in and sets down the national standard Parabolic Shot Equipment General Technical Conditions All products apply CAD computer-aided design, the appearance applies three-dimensional software design, and key components of numerical simulation use finite element analysis.
2. Features:
Complete systems quoted
One supplier for all components
Proven abilities - Industry leader
Quality components
Proven technology
Custom designs - Flexible layouts
Simple integration into existing manufacturing processes
Wide range of system sizes and variants
mplete set of equipment is controlled by PLC, and is the large-size complete equipment of international advanced.
QH69 shot blasting machine is mainly used for surface treatment (namely preheating, rust removal, paint spraying and drying) of steel plate and various structural sections, as well as for cleaning and strengthening of metal structural parts.
3. Technical Specifications
According to your requirements, the most suitable machines will be designed for your workpieces please indicate the folloing details.
1. What kind of workpiece will you clean?
2. The workpiece size, length, width and height of maximum workpiece?
3. How many workpiecs do you want to clean per day?
Based on this question, the detailed technical proposals will be sent to you for reference.
Technical parameter of pass-through type shot blasting machine Q69
No.
Model
Item
Q698
Q6912
Q6915
Q6920
Q6925
Q6930
Q6940
1
Width of workpiece
mm
800
1200
1500
2000
2500
3000
4000
2
Size of inlet opening
mm
800*
1600
1200*
400
1500*
400
2000*
400
2500*800
3000*800
4000*400
3
Length of workpiece
mm
1200-
12000
1200-
6000
1200-
12000
1200-
12000
3000-12000
2400-12000
4500-18000
4
Roller speed
m/min
0.5-4
0.5-4
0.5-5
0.5-4
0.5-4.5
0.5-4
2-8
5
Thickness of plate
mm
3-60
3-60
1.5-60
3-60
3-60
3-110
4.5-110
6
Abrasive flow rate
kg/min
8*120
4*250
4*250
6*250
6*250
6*360
8*360
7
Abrasive initial fill
kg
4000
4000
4000
4500
4500
8000
11000
8
Adjusting height of rolling brush
mm
400
200
350
450
600
850
900
9
Ventilation capacity
m3/h
22000
17560
19000
19550
27758
28050
38000
10
Total power of shot blast machine
(no dust collector)
kw
90
78.3
113.6
156.6
224.55
204.8
293.6
4. Detailed Photos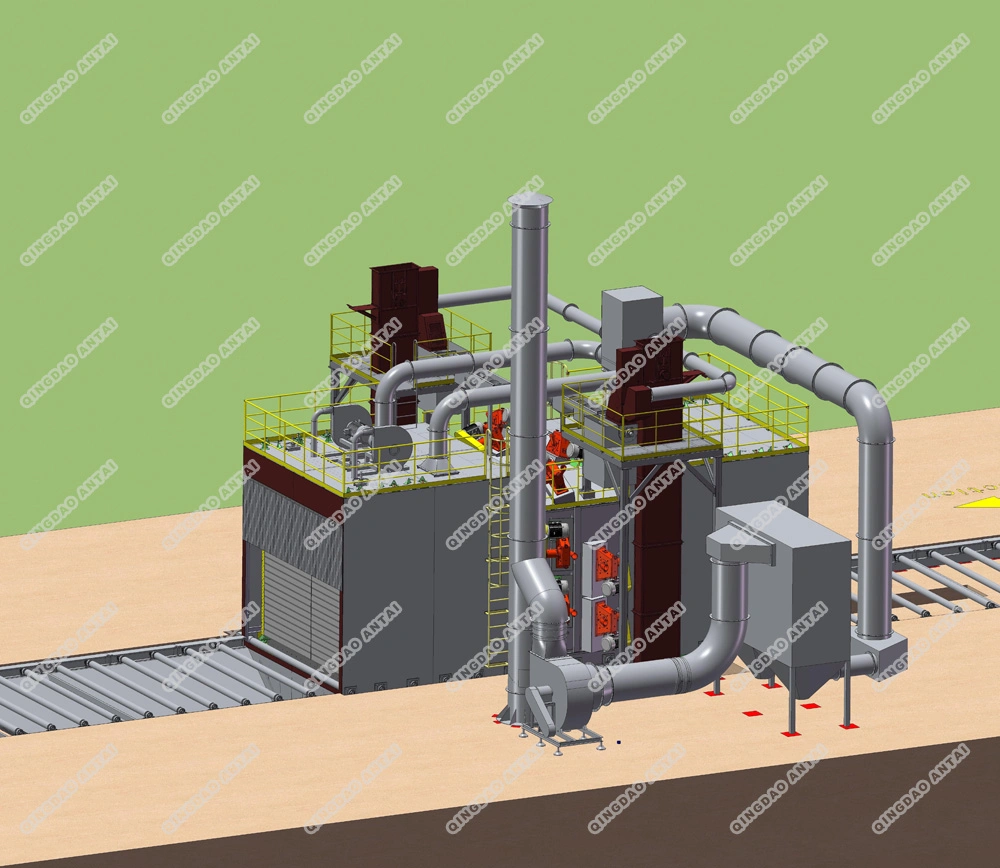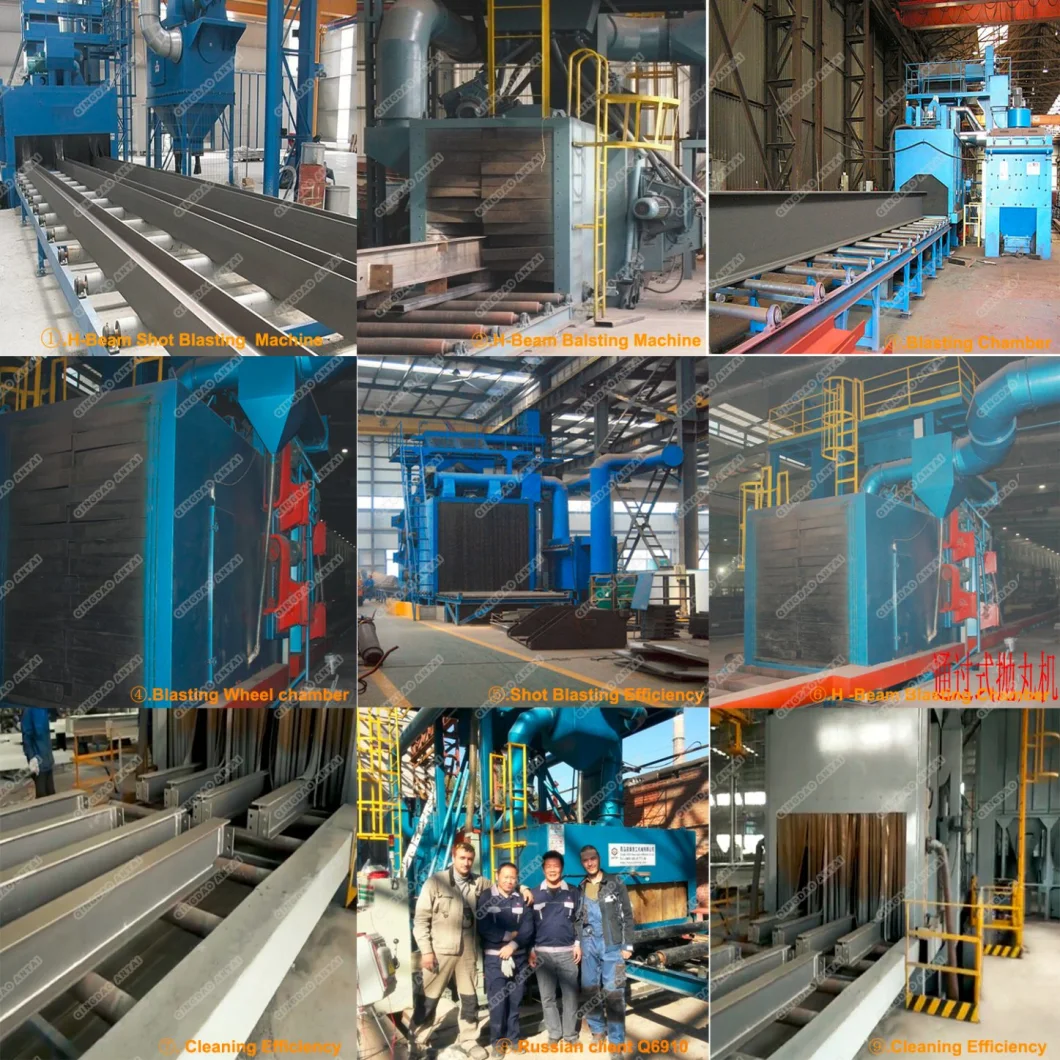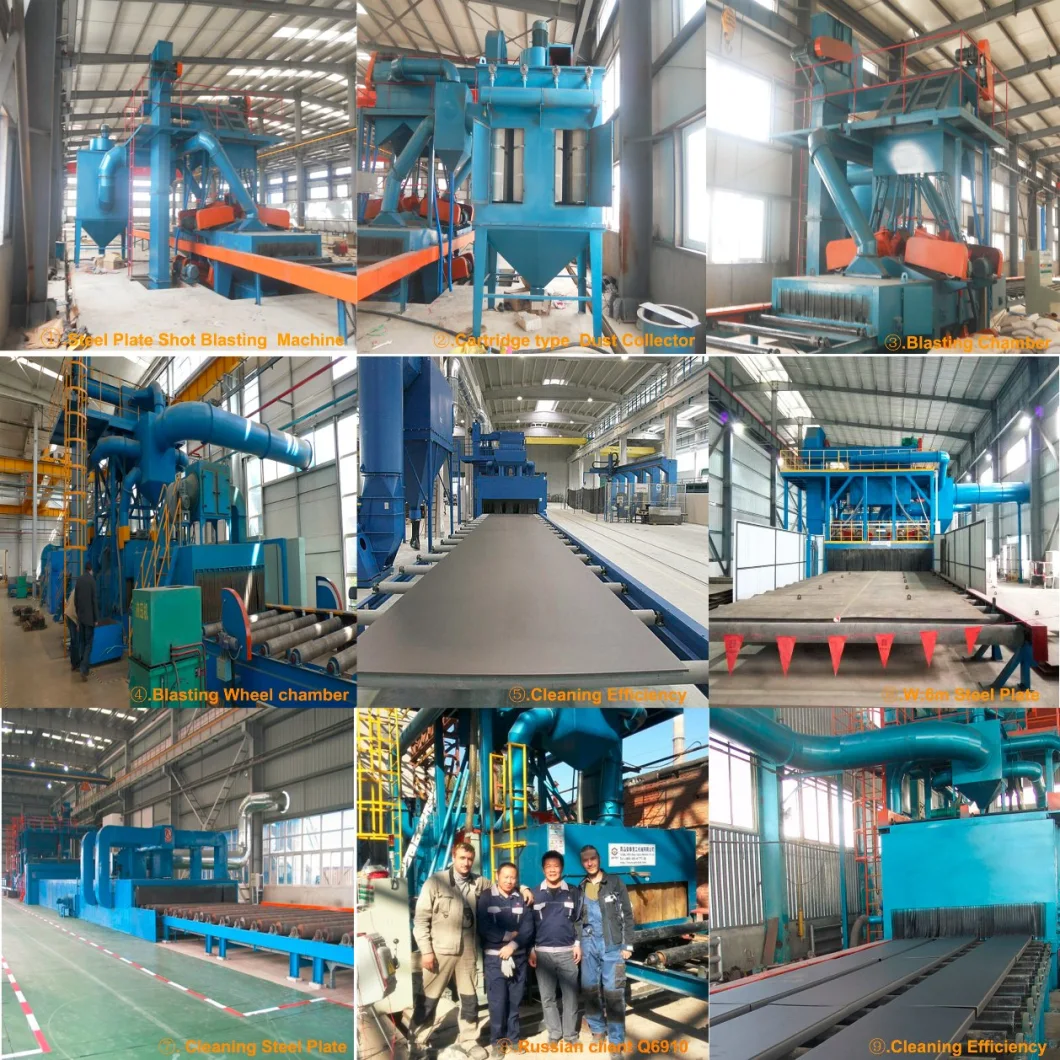 5. Company Profile



6. Contact Us