Automatic Powered Roller/Belt Transfer Spiral Conveyor for Packages Boxes
Automatic Powered Roller/Belt Transfer Spiral Conveyor for Packages Boxes
Introduction
Spiral Conveyor transports products up or down in a continuous flow, and has proven to be a very reliable concept in Vertical Conveying. This Vertical Conveying System does not only increase efficiency, but is also designed to conserve valuable floor space.
Spiral Conveyor Application
Spiral conveyor applies to bags, bundles, totes, trays, cans, bottles, containers, cartons and wrapped and unwrapped items; can work in several types of industries, food industry, beverage industry, newspaper industry, pet food & personal care industry and many others.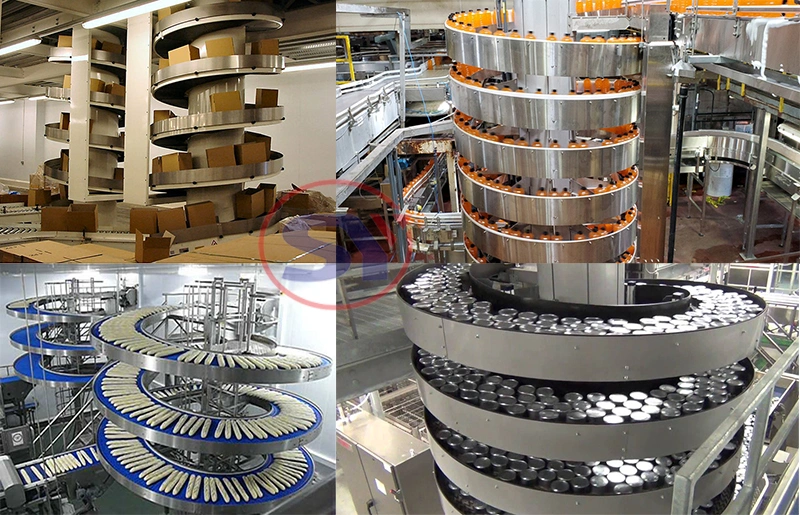 Spiral Conveyor
Working Principle
Vertical spiral conveyor consists of a conveyor belt that revolves around a centre.
The main components including: main frame, carrier chain, carrier chain guide, guardrail, power motor, frequency converter etc.; The materials and model are designed according to customer's need.

Spiral Conveyor
Advantages
1. Spiral conveyor is divided into: unpowered drum type and dynamic drum type.No power type is mainly used for conveying carton, power type (speed control) is mainly used for beverage containers transport, concrete conveying material, use different can satisfy various industries box, package transportation;
2. Safe and reliable transportation, high efficiency, and truly continuous transportation function, it is the best vertical transportation equipment for up and down stairs;
3. Simple structure and convenient maintenance;Flexible equipment layout, can achieve different directions of import and export requirements;
4. Continuous and uninterrupted transportation with high efficiency;
5. The entry and exit direction of the roller type screw conveyor can be selected in many ways: the common angles are: 0 degree, 90 degree, 180 degree and 270 degree.
Spiral Conveyor
Technical Parameters
Clarified By Transport Carrier

chain plate,

roller,

plastic mesh,

metal wire mesh

Spiral Conveying Width

200mm,

300mm,

400mm,

600mm

Total Spiral Length

carbon steel bottom chain 60M,

stainless steel bottom chain 48M

Main Frame Material

painting carbon steel and stainless steel

Lifting Height

1.Highest 6M by single driven,but vary according to loading speed and load capacity match with the total spiral length.




2.Highest 20chain plate,roller,wire mesh,beltM by several units combination.

Max Load Capacity(one driven)

carbon steel bottom chain<750kg,stainless steel bottom chain<600kg
Spiral Conveyor
Pictures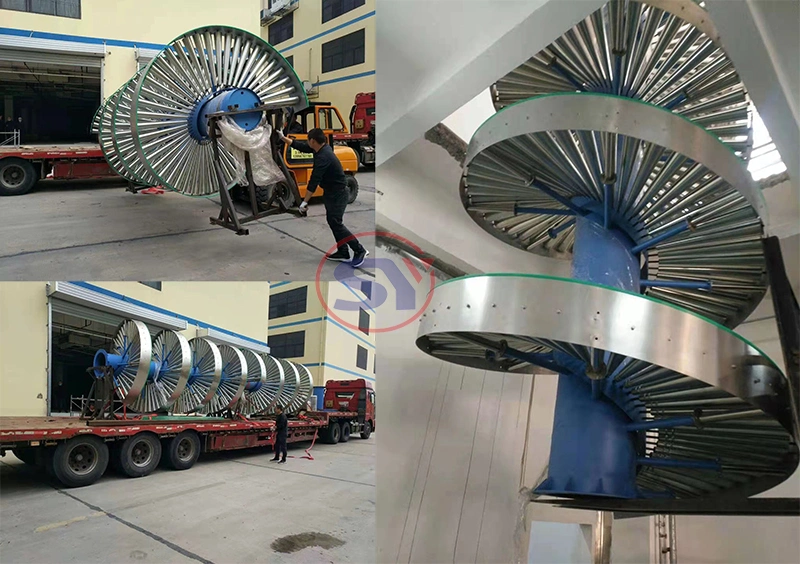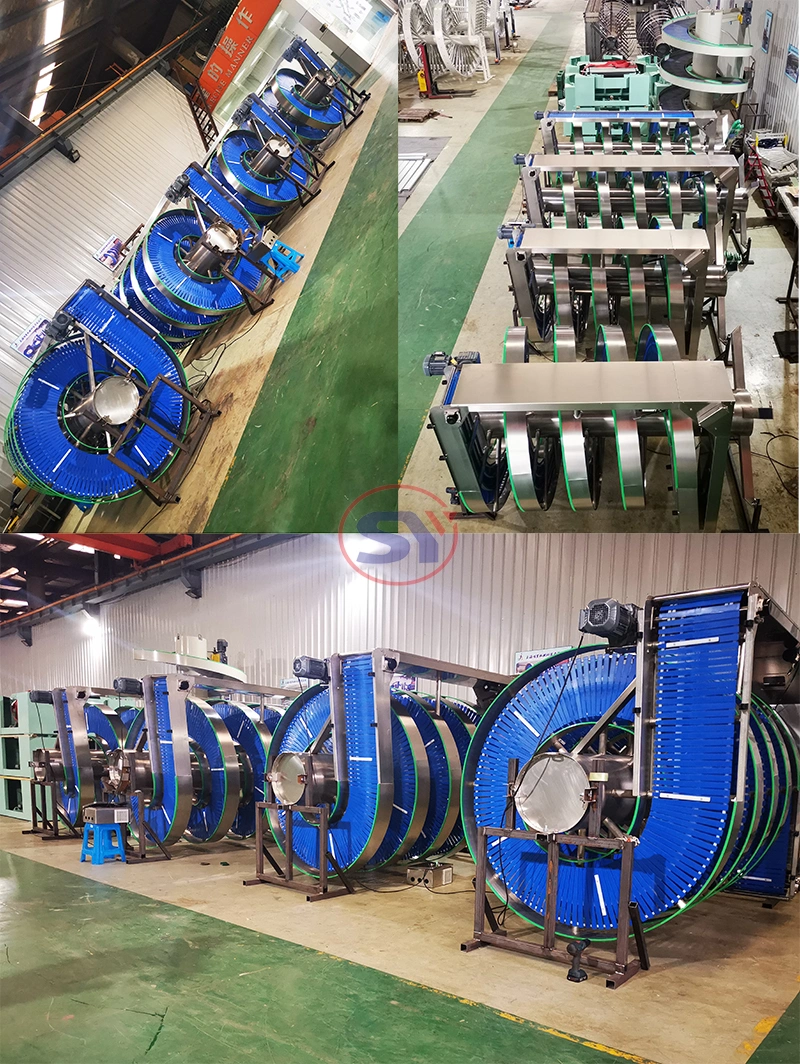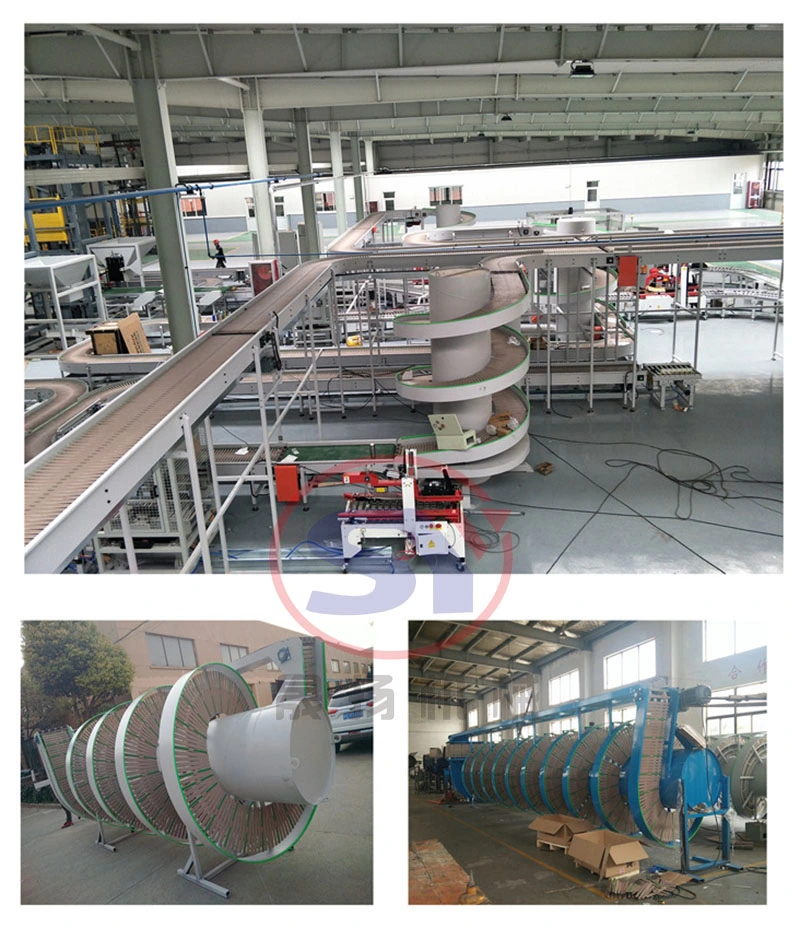 Packaging & Shipping
Generally packed in 20ft or 40ft container;
Shipment within 10~20 working days after the advance/full payment.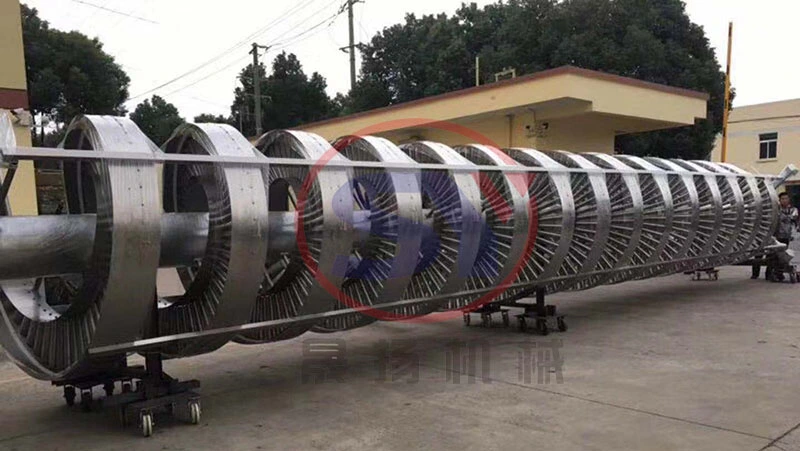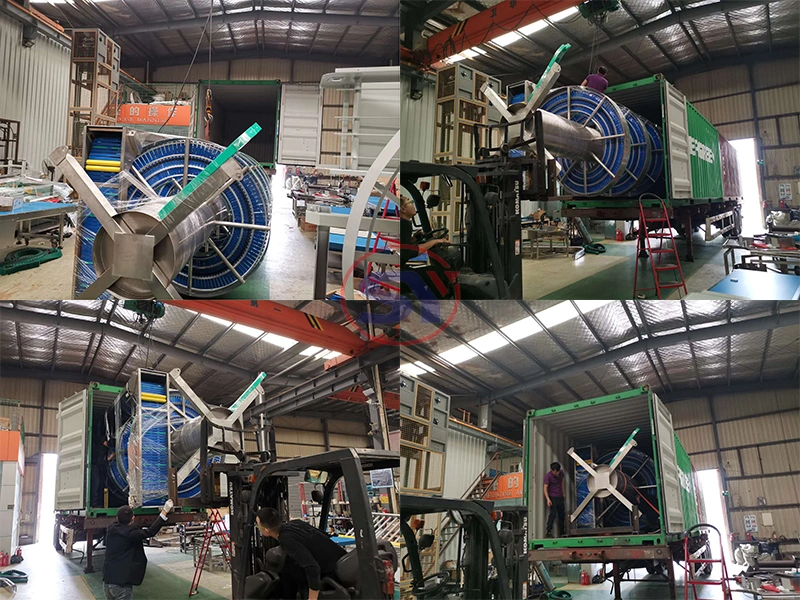 About Us
Zhengzhou Syoung Machinery Co., Ltd. is specialized in manufacturing and exporting transmission conveyors and equipment for decades.
All kinds of conveyors such as roller conveyor, belt conveyor, chain conveyor, wire mesh conveyor, screw conveyor, flexible conveyors are supplied to satisfy your different transmission demands.
We have professional technical engineer team, who have more than 20 years experience in transmission conveyor solutions for different fields.
Be your best and professional transmission solution partner is our pursue.

Why Choose Us
1. Different transmission conveyors with top quality for your choice;
2. Honest, sincere and experienced sales team to answer all your questions;
3. Professional and talented engineer team to meet your specific demands;
4. Transmission conveyor solutions expert.

If you are interested in this product, please feel free to contact Ms. Sharon, Thanks.